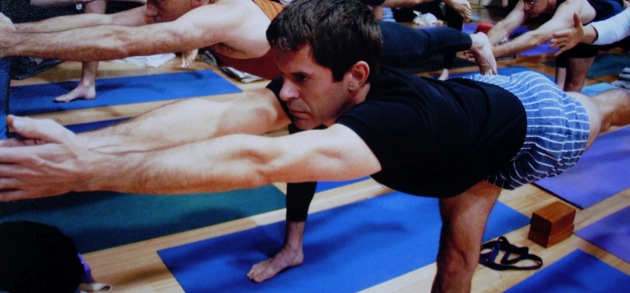 Johnny is a Certified Iyengar Yoga Teacher currently holding a JI3 certificate and with over twenty years full-time teaching experience. A key feature of the Iyengar Yoga tradition is that the teaching adapts to the needs of the individual. In Johnny's classes you will develop strength, stamina, suppleness and agility in safety and in a manner appropriate to your current capabilities. As you progress you will notice not only physical and health benefits but also a developing calm, awareness and focus, that will improve mental well-being. Teenagers to seniors are catered for: you don't need to be fit or flexible to begin, but now IS the right time to start.
As a Certified Iyengar Yoga Teacher, Johnny puts himself forward for regular assessment by his peers to ensure consistent quality and adherence to the Iyengar method.
Johnny began practicing yoga in 1989 and teaching in 1995 after training with Eve Grzbowski in Sydney. Since then Johnny has continued to develop his teaching skills and knowledge of yoga under the guidance of Senior Iyengar Yoga teacher Kay Parry at the Iyengar Yoga Institute of Bondi Junction. He has also studied with with the Iyengar family during visits to the RIMYI in Pune, India and with other renowned international teachers. Johnny has completed Stephanie Quirk's three year Australian Iyengar Yoga Therapy Course. Johnny teaches regularly in Wollongong, NSW and also travels for teaching engagements in New Zealand and Indonesia.
Johnny has a Degree in Communications from the University of Technology, Sydney (2000).
Johnny travelled to Sydney from Auckland (NZ) in 1979 as a member of an R & B band. He worked as a musician and songwriter until the mid 90's in various bands, including as singer and guitarist for Sydney band Dropbears.
Johnny has lived in the Wollongong area since 2003.