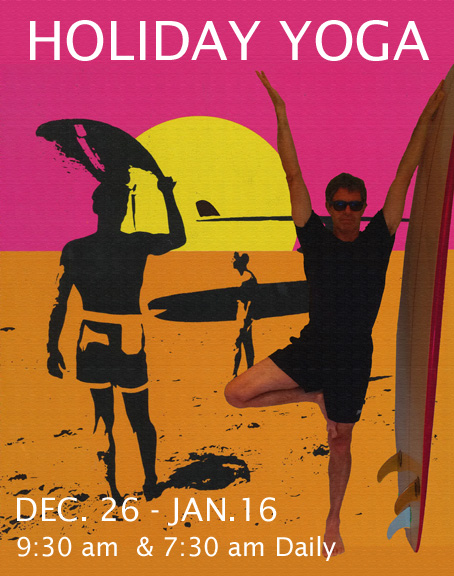 Johnny's classes will continue as usual at The Moore Street Yoga Room and Unanderra Community Centre until (and including) December 18. Between December 19 and 25 there will be no classes.
Holiday Yoga at Austinmer!
Johnny's HOLIDAY YOGA has been running every summer since 2003 and will begin again this year on Boxing Day and run EVERYDAY, including public holidays and weekends, until January 16 at the Moore Street Yoga Room in Austinmer. There will be classes for everybody at 9:30am and 7:30am.
The 9:30am – 11:00am class is for EVERYONE, whether you are beginning yoga for the first time, getting back to it, or keeping on, the class is fun and varied and will suit the relaxed holiday mood. It's a great class to bring your family and friends to. The class will adapt to suit the weather and the room kept at a pleasant temperature. It is a good idea to arrive 5 or ten minutes early to take your place in the room.
The 7:30am – 9:00am class will suit students with at least 1 year of yoga experience and who have no significant injuries. It will be a led-class ie: the sequence is demonstrated from the front and instructions will be given, but there will also be opportunity to explore the finer things at your own level. If you are not sure if this class will suit you, please ask Johnny. (In addition to the options below, a season pass can be purchased for the 7:30am class for $240-.)
Classes can be attended casually for $23-/class ($20-/concession). Or you can buy bonus packs: 10 classes for $160- or 5 classes for $90- (the 5 class pack needs to be used within the Holiday Yoga schedule).
Johnny's usual timetable will recommence in 2020 on January 17 at Austinmer and on January 29 at Unanderra.
Thanks for your support this year and I hope you have a great summer!
For more information, please contact Johnny on 0415 344 722.