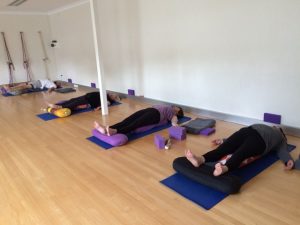 It's been great to be back to face-to-face teaching at the Moore Street Yoga Room. While online classes are great and can be mightily convenient, there is just something so immediate and direct about the yoga experience in the studio. It is my intention to keep online classes going and also to open up more studio classes at the end of September (after I've had a short break). To book for studio classes, and for online subscriptions, you can follow this link
The studio class format is a bit different to take account of COVID-19 protocols: a maximum of ten students in the room to allow for social spacing; no hands-on adjustments; bringing your own mat, strap and blankets; a bit of wiping down of surfaces at the end of class. For everyone's peace of mind I am asking that no-one comes to the studio if they are feeling unwell, have a fever or have any respiratory symptoms. I'll be taking my own temperature before I leave for the studio to make sure I don't have a fever and I am asking that all attendees do the same.
So whether in the studio or online, I hope to see you soon!